This poignant image is an almagamation of two photographs recently published on the
Early Canterbury Photographers
web site (the link to the original photographs opens in a new tab or window).
It depicts the tombstone of Caroline Hay in Addington Cemetery. The estranged wife of William Hay, the former Caroline McClelland died on Wednesday, the 19th June 1907 at her home in nearby Lincoln Road. The monument was erected by her eldest son Leonard Hamilton Hay.
The earlier photograph was taken before August 1908, when the mortal remains of Mary Ann Prideaux were interred within the grave. Caroline's friend, Mary had arrived at Lyttelton as a 23 year-old domestic servant aboard the sailing vessel Accrington in 1863.
The second photograph was taken in 2004, by which time the Granite pillar of the monument had fallen into the foreground, with its cornice just visible to the Left. The fall of the monument is probably attributable to the inevitable decay and eventual collapse of the coffins beneath it.
The daughter of Anne and Robert McClelland of Carlow, Ireland, Caroline Hay (above) was born on the 24th of April 1847. Aged nineteen, she arrived at Lyttelton aboard the
Wiltshire
on the 17th of February 1877.
Five years later Caroline married the widowed William Hay at the Methodist Church in Selwyn Street, Addington. William farmed at Rolleston and then South Canterbury, but by 1898 the couple had separated and Caroline returned to Christchurch, taking her three children with her.
By the end of 1898 Caroline Hay is recorded as a storekeeper, buying a property on Accommodation Road, Richmond, Christchurch for £350. Now known as London Street, her home at number 29 survives, but has been much altered since the time when Caroline named it "Moira," an allusion to both an Irish Shire, and from classical Greek mythology, a person's fate or destiny.
The three children of William and Caroline Hay were: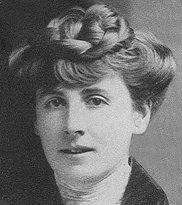 Mary Prideaux (Mamie) Jenkin (nee Hay), (elder of twins) 15 December 1883 - 28 September 1949 (born and died at Christchurch).
William Hay (younger of twins), born 15 December 1883 at Christchurch.
Leonard Hamilton Hay, born 11 January 1887 Lincoln Road, Christchurch.
Caroline's brother Paul McClelland, subsequently of Mendecino, California, is noted as having been a soldier in the American Civil War.
A great great grandson of William Hay writes:
William Hay (above) came to New Zealand from Northern Ireland about 1863-64 leaving his pregnant wife and two children behind in Ireland. They finally arrived at Lyttelton aboard the
Charlotte Gladstone
in 1871, and it was the first time that he had seen his daughter Sarah Ann Hay then aged 7 years.
Mary died at Rolleston in 1874 and William remarried in 1882, moving to South Canterbury in about 1890, with his second wife Caroline. However, she wasn't happy living in a remote rural area, and moved back to Christchurch with the three children of the marriage. Leaving an estate of about £3,000, or $302,000 in the values of 2009, William died at Albury in 1918 and is buried there.
Although both wives were surnamed McClelland there is not any close family ties between them. Mary was Northern Irish Protestant, Caroline Southern Irish Catholic.