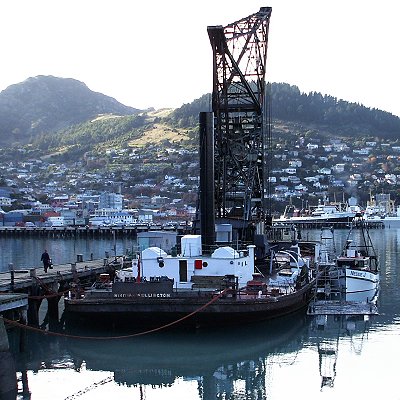 LARGE IMAGE OPENS IN A NEW TAB OR WINDOW
Continuing to enjoy her 83 year working career, the 49 metre floating crane
Hikitea
arrived in the port at 1.35 am on the 5th of June, 2009.
Departing from her home port of Wellington for the first time since her 82 day delivery voyage from Glasgow in 1926, the
Hikitea
will spend a week at Lyttelton, undergoing hull plate replacement and tailshaft repairs in the graving dock.
Owned by the Maritime Heritage Trust since 2006, the 746 ton floating crane was built by Sir William Arrol and Company Ltd, whose greatest claim to fame is probably the 1894 construction of London's iconic Tower Bridge.
Photo credit: Second photograph
Kiwi Frenzy On Location
, third to fifth photographs
Cranes Today Magazine