Situated on the northeastern corner of Colombo Street and Oxford Terrace at Victoria Square, the simple structure to the centre foreground of the above photograph had the distinction of being the first building erected within the original boundaries of the city of Christchurch.
Built by April 1850 on Public Reserve No.1, it was the Canterbury Association's store. From here were issued the victuals and equipment to the men building the jetty on Oxford Terrace at Barbadoes Street and the Land Office on the northwest corner of Oxford Terrace and Worcester Street. The store probably owed its location to the nearby lagoon in which boats of up to twenty metres in length could be turned.
In 1853 the adjacent Christchurch Common became Market Place and the Association's store was in use as hostel for the Māori bringing produce from Kaiapoi, Rapaki and Port Levy to the weekly farmers' markets. By the beginning of the 1860s the former store was being used as their meeting hall by the United Methodist church.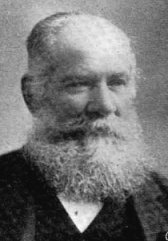 The twelve year old store building was replaced in 1862 by the Boarding House by Antill Alfred Adley (1832-1911). Adley (above) had been granted a Publican's Licence by 1865, and his premises (below) became the sixth hotel to overlook the market place. The tall entrance to the Left led through to Stables and a small paddock on what would become the site of the city's third fire station in 1876.
Adley sold his hotel in 1873 and by 1881 the shingled roofed wooden building had been replaced by the current premises (below).
After undergoing substantial modification in 1978 (below), the old hotel became known as the Oxford Tavern. Now known as the
Oxford on Avon
, it houses two bars and a pair of popular restaurants.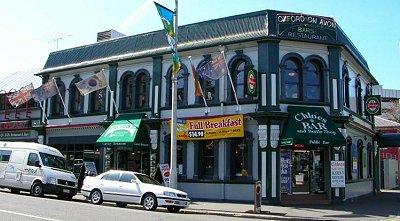 Below: overlooking the site from where passengers embarked in excursion paddle steamers to New Brighton and Sumner in the 1890s, is the alfresco terrace of The Carvery Restaurant.