LARGE IMAGE OPENS IN A NEW WINDOW
An elevated westerly view across Sumner and the Avon-Heathcote estuary to the Southern Alps from Scarborough Head.
Considered one of New Zealand's most important portrait painters, Frank Nicoll was a man of strong personality and decided opinions. A physical handicap acquired during the First World War prevented him from painting the more rugged and inaccessible parts of New Zealand, but his seascape and pastoral landscapes around Christchurch, though strongly influenced at first by the academic discipline of his Edinburgh College of Art training, became sunlit scenes marked by a sureness of touch and a warmth and freshness of colour.
Archibald Francis Nicoll, O.B.E. (1886-1953) attended Springston school and then Christchurch Boys' High School. Working as a shipping clerk in the Cashel Street, Christchurch offices of the Union Steam Ship Company, he attended evening classes at Canterbury College School of Fine Arts under Sydney Thompson. He subsequently studied art in Britain for three years from 1911. Nicoll was a member of the council of the Canterbury Art Society, of which he was president for two years, and was on the advisory committee of the McDougall Art Gallery and the committee of management of the National Art Gallery and the New Zealand Academy of Fine Arts.
Although unrecorded in any known catalogue the above painting is believed to be currently in the archive of the Auckland Public Art Gallery.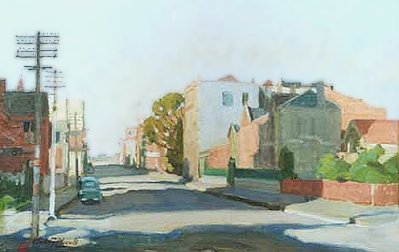 Above: also painted by Frank Nicoll in 1950 is this easterly view of Christchurch's Hereford Street from the corner of Montreal Street (current location unknown).