To promote the Christchurch City Libraries Retrospective: Christchurch life, architecture and design 1940s - 1970s photo competition we're going to feature a series of photographs from each decade. This week we'll reflect upon the later 1940s.
1945 was a memorable year for Christchurch; the Second World War ended amid crowds processing up Colombo Street to the Square in celebration, the 1912 tower of the Sydenham Post office was demolished, there were floods in many parts of the city, the Majestic Theatre in Manchester Street burnt, the lowest air temperature of minus 7.1 degrees Centigrade was recorded and the Railway line to Picton was completed.
With the start of the 40 hour week, the city shops were closed on Saturdays until 1981, Hubert de Rie Flesher sold Avebury House along with 8 acres of grounds in Richmond to the Christchurch City Council and the Cora Wilding Youth Hostel was thereby established. Charles Upham was awarded his second Victoria Cross and his maternal Uncle, the last survivor of the 1850 first four ships emigrants, died.
But what was probably the most photographed event occured on July the 14th when 45 Centimetres of snow fell on the city. There was extensive damage to Riccarton Bush, power and telephone lines came down and public transport ground to a halt. Here then are some photographs of that memorable event.
A south-westerly view across Cathedral Square to the Regent Theatre.
A south-easterly view from the north-west corner of Durham and Gloucester Streets.
A southerly view of the Trams sheds on Moorhouse Avenue near Falsgrave Street.
A southerly view along Barbadoes Street North towards the Edgeware Road intersection.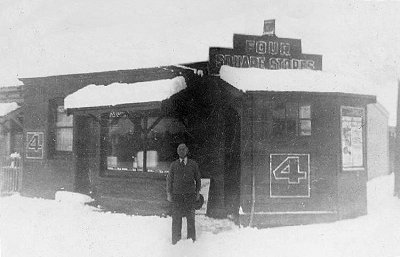 The Four Square shop on the corner of Station Road and Flavell Street, Heathcote.