Friday the 13th hasn't been particularly inauspicious in the history of Christchurch, but Friday the 13th of February, 1953 was the day that the University burnt.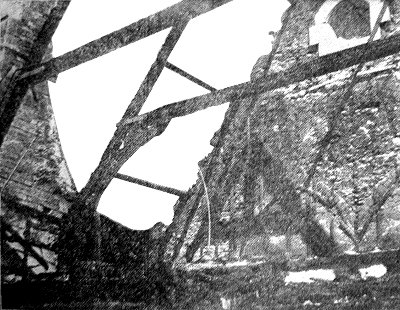 At 3.43 a.m. on that morning a street alarm at the corner of Hereford and Montreal Streets summoned seven units from the Lichfield Street, Sydenham and St Albans Fire Stations to what is now the Worcester Boulevard frontage of the Arts Centre. The fire began in the south-east corner of 1879 extension, which had been occupied by the Christchurch Boys High School from 1881 to 1926. The Shelley Theatre of the Canterbury University College Drama Society and part of the Department of Geology were completely gutted. There was also considerable water damage to the departments of Civil Engineering, Economics and Psychology.
Above: wooden scaffolding being erected prior to rebuilding. A total insurance loss, restoration took six months.
Above: the fire damaged area is to the Left in this contemporary photograph.
---
To promote the Christchurch City Libraries
Retrospective: Christchurch life, architecture and design 1940s - 1970s
photo competition
, we're featuring a series of images from each decade. This week is the 1950s and next week we'll take a look at the 1960s.