To promote the Christchurch City Libraries
Retrospective: Christchurch life, architecture and design 1940s - 1970s
photo competition
to find key images of the city's post-war period, we're featuring a series of images from each decade. This week we'll reflect upon the 1940s.
The period of the Second World War and the years immediately following it were an era of a significant shortage of both local manpower and imported machinery, (there was also a shortage of photographic film - the 1940s only account for 1.4% of the images in our archive). One of the consequences of that situation was a neglect of the city's drainage sytem.
1945 was the worst year of that decade for drainage failure; between May and August there was severe flooding throughout city.
An easterly view of Carlyle Street, Sydenham
the Christchurch Gas Company's Coke furnace in the background.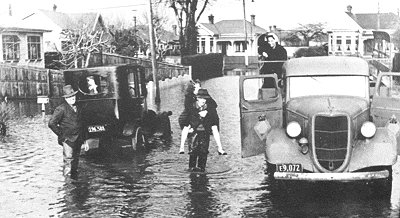 Northery view towards Warrington Street, of Chancellor Street, Shirley
8 August 1945.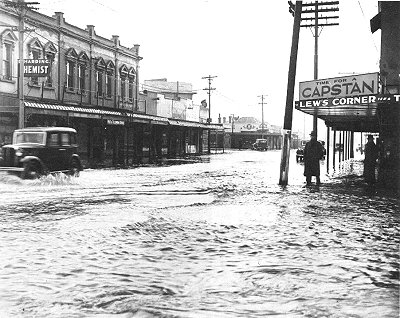 North-westerly view of the Beckenham shopping centre
from the  corner of Colombo and Tennyson Streets
19 May 1945